In the months leading up to my departure to go adventure trekking in Pakistan, a fair few stereotypical words were muttered to me. These utterances included 9/11, terrorism, danger and umm…carpets. Is there more to Pakistan than tapestries, tea and 'terrorists'? Of course there is!
Mountain Trekking in Pakistan
Trekking in Pakistan is simply some of the best trekking in the world.
It gives treks in Nepal a run for their money for sure. By reading this, you are on the path to an experience that is going to rock your world. You'll see mountains you never thought possible, whilst coming across locals in the cities and villages who are determined to show you just how stunning Pakistan is.
With little to no WiFi for 14 days, in a land I've been dreaming of visiting ever since stepping foot in Bangladesh and India, I embarked on unearthing Pakistan and experiencing everything it threw at me with full open arms.
And throw experience after experience after experience Pakistan tourism certainly will!
Not only have I returned with stronger legs and a peachy butt, but a deeper appreciation for the simple things in life (not having internet for 2 weeks works wonders) and a heartfelt appreciation for how restorative Mother Nature is.
PAKISTAN QUICK ANSWERS
Short on time? Here's what you need to know.
Who did you go to Pakistan with?
Epic Backpacker Tours
Do I need a visa for Pakistan?
Most likely yes
Find out about Pakistan visas here
Is trekking in Pakistan safe?
In the right area with a local guide: yes. Just make sure to train your legs to be ready for this
Don't forget your travel insurance
Hiking in Pakistan is epic!
Pakistan is where every hiker should be going to experience pure mountain magic.
Just look at this picture. I feel like a fraud. It doesn't even look real!
Am I standing in front of a green screen?
Is this just Photoshop mastery? Absolutely not. This.is.real.
The tour company I went with, Epic Backpacker Tours, will get you there.
GO TO PAKISTAN WITH EPIC BACKPACKER TOURS
Should I go hiking in Pakistan on a tour or solo?
I'm all for exploring this planet alone. 90% of the time that's exactly what I'm doing. Yet for Pakistan, when the opportunity arose for me to experience this country with Epic Backpacker Tours, I really felt it was the right thing to do.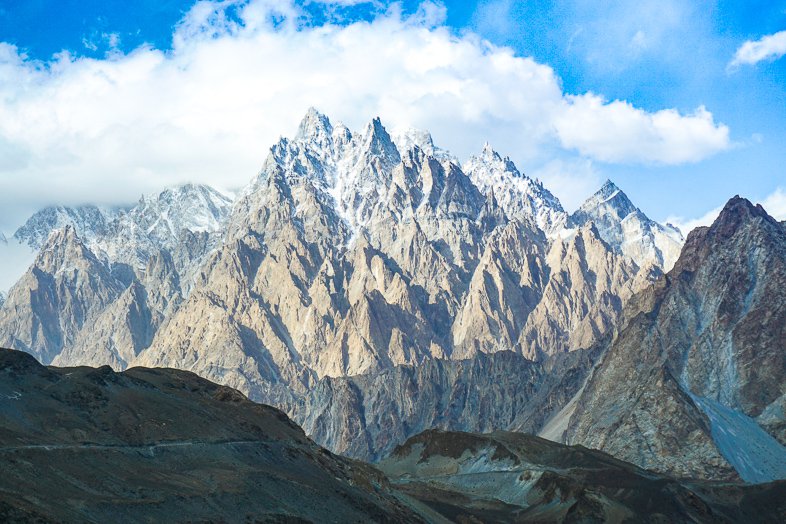 This is why:
Pakistan is still very much off the beaten path: this means there are little to no hiking trails marked and signposted. I'd have no clue where I was going if I was by myself.
To get to the best bits of any country, you need a local friend who knows the best bits. Going with a tour allowed me to hang out with locals in their village, in their house, with their family. And the hospitality is genuinely genuine and loving.
The roads are nuts. If you were going solo, you would have to hire a driver anyway. Better to entrust your life with someone who you know is going to be good at keeping you alive and well.
English is still minimal. Some locals do speak English but there are 73 different languages spoken in Pakistan! Many communities live together with their own distinct traditions, culture, dialects and unique appearances. Having someone to help you communicate certainly helps when you're in the middle of nowhere.
Trekking in Pakistan requires solid support and comradery. I actually underestimated just how physically hard this trip was going to be. I'm thankful I had a team alongside me who had my back every step of the way.
If you're thinking about trekking in Pakistan, change those thoughts to solid priorities. I thought I'd seen the best mountains in China, but they've just got trumped. Pakistan peaks are now winning.
VISAS AND TRAVEL INSURANCE
Do not skip this step: You need a visa and travel insurance when you visit Pakistan!
Find out about Pakistan visas here
Get your Pakistan travel insurance quote here
Mountains through the Karakoram Highway
Pakistan is home to 5 of the world's 14 mountains which are taller than 8000 metres! You'll find most of these breathtaking beauties in the Karakoram range which stretches all the way from Afghanistan to China, towering its way through Pakistan and India in-between! On this trekking tour you'll get to experience the Karakoram, Himalayas and Passu Cones.
Throughout my 14 days in Pakistan I ventured from Lahore to the Khunjerab Pass in Gilgit-Baltistan and back, along the exhilarating Karakoram Highway. I traversed across mesmerising white and black glaciers, trekking knee-deep in icy snow, along terrain that challenged and drastically improved me.
Indiana Jones style jeep rides along the edge of steep life-grabbing mountains.
Soothing hot and steamy chicken noodle soups in wooden shepherd's huts.
Hair-raising wooden suspension bridges bashing from left to right in the tumultuous weather whilst you're trying to get across them.
Cups of ridiculously sugary tea that turn you into a temporary drug addict. Give me some more 'jenny' (sugar).
Indescribable sights after hours of trekking that make every step you took mean everything.
Read on to discover what 14 days of adventure travel trekking Pakistan looks like.
Day 0: Hello Lahore!
To get to the mountains, you need to get through the city first.
As I emerge from Lahore airport the heat hits my face, locals are eyeing up my red hair and I'm double-checking if my long shirt is doing its duty in covering my curves.
Lahore is one of the most socially liberal areas of Pakistan, but respecting the culture you want to hang out will get you far.
PAKISTAN PRE-TRIP READING
I highly recommend the following books:
Pakistan: A Hard Country
Pakistan – Culture Smart!: The Essential Guide to Customs & Culture Paperback
Tinderbox: The Past and Future of Pakistan Paperback
Pakistan: A Personal History
This cosmo and wealthy capital of the Pakistani province of Punjab is bursting with fascinating culture and history and it wholeheartedly deserves your attention. But hold your horses on this one. I explored Lahore upon my return from the mountains at the end of this trip so we'll get to all the goodies you can see here later in this article!
I spot Chris, my awesome North Pakistan tour guide for Epic Backpacker Tours, through the hundreds of locals waiting for their loved ones. On first impressions he has an awesome beard and the cool and calmness that one must possess to manage 10 adventurers brave enough to come here in the first place.
Not everyone who applies to come on this trip with the company makes it. You ideally need some really good backpacking experience, an open-mind, patience, flexibility and the willingness with a smile on your face to sleep in a hut in the middle of nowhere whilst pooping behind bushes. Perseverance and an openness to roll with what Pakistan throws at you will get you far.
We jump in a taxi and are swiftly whizzing through the bright and chaotic traffic to Chancery Hotel for the night. Tomorrow the adventure truly starts – along with the moment where I will finally meet the other 9 adventurers I'm going to be sharing this experience with.
PAKISTAN TRAVEL TIP
Before you depart from Lahore, make sure that you've got cash!
Pakistan is a paper money society and trying to use your plastic in the mountains will get you nowhere. Some ATMS are definitely better than others too: I recommend finding and using a MTB ATM.
Extra bonus points to you if you have a visa card; I struggled finding ATMS that would accept my Mastercard.
Travel with others to expand your mind
I'm stoked! Yes, I am an advocate for solo female travel but I'm so excited to be travelling with others.
My fellow adventurers are from all walks from life and are here for reasons we all travel.
Amongst them are…
Anthony, a dentist from Australia in his early 20s, has just stuck his middle finger up to selling veneers and is turning towards a deeper level of understanding in his life. 'I used to believe that making money was everything…', he says, 'but now I'm on a different a path'.
Cass, a chick the same age as me from Australia, is a total badass. With a past of fighting some demons, she's taking her first trip in 2 years after turning her life around through Muay Thai and growing her vegan catering business.
Aurelie, a French Parisian chick, is here to report back to her friends who discount places like Pakistan. 'I want to go to places solo women generally don't go to, so I can show my friends what it's really like'. I love her immediately.
Days 1 and 2: Lahore to Karimabad
Buckle up: You've got 2 days of driving ahead.
There's no way around it. If you want to get to mountainous Pakistan paradise, you're going to have to endure two very long days of driving on crazy ass roads. Yes, there are flights, but they are renowned for being unreliable and hours (days) late. Better to get on the road!
As Cass so elegantly put it, 'You just need to surrender to it'. And surrender we did.
Take this time to look out the window and reflect on why you have come here. Read that book. Listen to that podcast. Sleep. Eat all the Pakistani junk food you pick up along the way.
And speak to the others that you are embarking on this adventure with! They are going to be the team that you'll learn so much from, who will support you and who you'll be sleeping with in that Shepherd's Hut in the middle of nowhere. Make friends.
Angels come in all shapes and sizes but your angel on this trip, if you go with Epic Backpacker Tours, will be your bus driver Mr. Khan. Mr Khan is the epitome of Pakistan kindness, hope and hospitality. He has kind eyes, quick reflexes and the rock solid determination to get you to all destinations on your itinerary as quickly and safely as possible. He might just be my most favourite person in Pakistan. You rock Mr.Khan.
PAKISTAN DRIVING PACKING LIST
Books (see recommendations above)
Downloaded podcasts
Neck pillow
Eye mask
Ear plugs
Anti-sickness medication or wristbands
Probiotics
Patience
Check out my ultimate backpacking packing list here
These 2 days on the road will be the start of your tea habit.
You'll be mesmerised by the psychedelic-painted Pakistani trucks and all the trinkets hanging off them.
You'll question whether it's safe for that many local people to be sat on top of one vehicle.
There may be impromptu traffic-jam singalongs.
And once you hit the checkpoint where you register for your permit to enter Hunza, you'll excitedly sense that you're about to enter a world few foreigners do!
Days 3 and 4: Karimabad
It's amazing what asking a question can lead to…
Historically a caravan pit-stop, you will arrive in the capital city of Gilgit, Karimabad! It's the royal land of apricots, forts and super nice locals.
This beautiful town set in the snow-clad mountain peaks of Rakaposhi is home to the past kings of Hunza. It has two stunning forts that you can visit where the rulers of Hunza lived up until 1945.
You can also enjoy a spot of shopping (scarves and carpets galore!) and a beautiful walking route next to the water channels.
Whilst strolling along next to these waters, you'll pass by local houses abundant with blooming yummy cherry, apple and apricot trees, lands full of potatoes and deep red tomatoes and some very friendly locals just as curious about you as you are as them.
I asked one local farmer what he was growing and was quickly transported into an afternoon of tea drinking in his house with his amazing daughters and their friends – along with a tour of their local village (goat cuddles were included!).
Girl Power in Karimabad
During my time drinking tea in the farmer's house I meet Salliah, Emma and Naziah. Salliah wants to be a climber, Emma a doctor and Naziah a judge. Jobs you may be surprised to hear these girls say, but the education for girls here and their aspirations for their future are simply kickass.
Thanks to two top-notch schools in Karimabad, the girls I met here were strong, determined and confident in their abilities. How cool is that?!
Representing the older generation I urge you on your way up to Baltit Fort to seek out this lady.
I truly hope that this beautiful woman, now over 80 years old, is still there when you visit. Her level of English is minimal, but her nimble fingers pointing to a newspaper clipping above her shop doorway revealed that she's been making embroidered items here since the age of 10. She's lovely. Go hang out with her.
Talking about shopping, if you want a carpet or a scarf, this is the place to do it on your trip. Just make sure you know how to bargain (for reals) otherwise, no matter how lovely they are or how good their tea tastes, they'll still try their best to charge crazy prices.
LEARN TO NEGOTIATE
I've been reading this book and love it!
Afternoon of Day 4: Eagles Nest
From Karimabad, take a drive up further into the mountains to the enchanting and panoramic Eagles Nest! It's a super sweet sunrise and sunset mountain spot and the perfect place to stop, breathe and begin to really soak up this glorious mountain goodness.
I managed to seize the sun here and there between the rains and clouds. Look at the views!
We camped up here, loved the hospitality from the locals and made the most of the mountains around us by going on a 2 hour hike. Try your best to make the most of it too!
Day 5: Attabad Lake to Gullin Village
Awakening to the magical morning views of Eagles Nest, you'll start heading towards to the very quaint, humble and homely village of Gulkin. But first, there's a couple of stops you need to make!
Attabad Lake
When in Hunza, make sure Attabad Lake is on your list. It was so windy when I was there that we were all struggling to stand up straight, but I was told that visitors are usually basking in the sun, cruising along on a boat whilst they're here!
The creation of this lake has quite a tale behind it by the way! Before 2012 it didn't even exist. A mahoosive landslide took place, the village here was completely immersed and the water rushed in. Feels weird to be jet skiing over an entire village – but there you go!
Hussaini Suspension Bridge
When I completed the most dangerous hike in Huashan China, I thought that couldn't be topped – but this bridge takes the biscuit. You have to be a nutter to go across this in ridiculously high winds; so naturally we all tried it and miraculously returned. Hussaini Suspension Bridge is insaney.
This bridge is used by locals to get across to neighbouring villages and they do it so…calmly. Whilst all of us, like a right bunch of tourists, were trying to do the same in the name of 'adventure'.
Make sure to watch my Pakistan Part 1 Video in this post to see how wooden planks can turn into utter madness. The level of danger here is for real. People have perished going across this thing. I can't quite believe I even did this…Sorry Mum.
Ghulkin Village
After all the adrenaline of today, you'll roll into Ghulkin village and instantly have your heart mellowed down a couple of beats.
Children run around together laughing and playing cricket, whilst a lady peers out of her wooden hut selling sweets in plastic containers. Mothers and Grandmas with beautiful long braided hair sit together under the shade of a tree, catching up on the news of the day. The men are building, planting and repairing what needs to be done.
The mountains hug this village haven as the clouds bobble on top of them all. The locals quietly smile and say hello to us all as we follow our local guide Rehman through the winding paths lined with blissful apricot trees and their delicate blossoms.
This is Rehman's village. How lucky I am to be here.
The fear of the unknown hasn't stopped this community. They are openly welcoming us into their special place and I feel loved and cared for already.
Rehman's Home
We start ascending upwards. His son and daughter come racing around the corner and immediately try to grab our backpacks. His daughter Rafia takes mine from my hands and throws it on her back. She's leaping and bounding up to the house – this little mouse as strong as an ox.
Within 10 minutes of sitting down in their traditional wooden house; the tea is bubbling away in the kitchen, we're munching on delicious almonds and our pillows and thick snuggly blankets are all laid out in a row in one room for what's guaranteed to be an awesome sleepover later tonight.
But first; you need to take a tour of Ghulkin! Make way for Han Bagh, Rehman's amazing Dad.
'Haha, my name is handbag' says Han Bagh, mimicking carrying what I can imagine would be a big Louis Vuitton. I love this dude already. And a dude he is. Chris, our tour leader, tells me he's been learning more and more stories about Han Bagh as he returns back to this village with each tour he runs.
He may look like a Granddad, but Han Bagh can run up these mountains like no one's business. He's a world-renowned mountain climber. He's climbed the big boys and guided many serious explorers (and this was back before all the fancy gear and oxygen we have now).
Han Bagh will show you around the village and take you up to the very top for the best views too. Make sure to have a go on the swings whilst you're up there!
Watch Part 2 of my Pakistan Vlog
Day 6: Black Glacier hike to Shepherd's Hut
Today is going to be an amazing day. This will be your first full day of doing a trek (across a Black Glacier no less) to a shepherd's hut in the middle-of-nowhere Pakistani wilderness.
You'll be challenged, in awe of what this planet can actually look like, and the mountain food you'll devour at the end of your journey will never have tasted so good.
The route is jagged, rocky, cold and windy as hell if Mother Nature so decides (she did), At times I was scrambling upwards across the icy and crushed stone, to then have to step down bit by bit upon hair-raising unstable slopes. I clutched onto my hiking poles for dear life.
At the last point, I have to jump down from such a height to reach the shepherd's hut and I freeze, crouched on the icy ledge above like a bewildered gargoyle. I've never liked obstacles like this from these kind of heights. I use my bum to my fullest and 'wheeeee', I'm down one way or another.
I'm tired, windswept and have a muddy bottom, but I stagger to the hut, swing the big creaky wooden door open and devour the bowl of noodles steaming in front of me lovingly whipped up by the porters in just the nick of time.
And just when I think everything awesome has happened; Rehman coaxes us up further and further out into the vastness beyond the hut, into the jaws of the glacier through unexpected thorny trees and ultra fine golden sands, until we are as close as we can possibly get.
I face these giants and breathe it all in with my fellow adventurers. I can't quite handle the power of it all. I sit and let the energy radiate through my bones.
Then we go back to the Shepherd's Hut and somehow end up having a rave in there…because #yolo.
Day 7: Lake Borith and Passu Glacier
Not gonna lie, we were freezing our butts off in that hut overnight, but I materialise from our icy cocoon as soon as the dawn breaks, to race back up to those glacial jaws and toast to our new days with a hot cup of fresh coffee (thanks Chris you make the best cup of the black stuff!).
With the Black Glacier officially conquered, we head back down the mountain a much easier way, passing through tranquil woods along bumbling brooks past a lone hut or two. I liken myself to a hobbit ascending from Mordor to more peaceful pastures green. This terrain is certainly different!
We eventually emerge from the relentless black stones and rocks, and find ourselves standing in front of picture-perfect Lake Borith, glistening under the sun's finally emerging rays.
Lake Borith
Lake Borith is a sweet little hamlet where you can imagine a writer escaping to for a weekend away, to finally finish that book he's been trying to complete for years.
2600km above sea level, it has a hotel next to its 40 inhabitants; one of them being the very jolly and optimistic Han Dolan. He's quite a character! 70 years old, with a set of pipes any singer would take their hat off to, it turns out he's one of Han Bagh's best mates. No wonder.
He shows me around the hamlet (takes all of 5 minutes) and I sip another chai (how many cups of tea are we on now?) on the hotel's rooftop four levels up, which is still very much being built.
Before returning to Rehman's home for one more night of no TV, no internet and the simple pleasures of just talking and learning from each other; we have one more thing to experience – the White Glacier!
The White Glacier
As Hunza Valley has a Black Glacier, the Universe has balanced it all out with a white one too! Simply called The White Glacier, or Passu Glacier (because hey ho, it's in the Passu area next to Ghulkin), just when you think you've seen the best, Pakistan keeps pulling its gems out of its hat.
After a riveting ride on a jeep you'll start hiking up this rocky slope, to then turn the corner to see this!
Pakistan you beauty! Seriously! It was at this moment on the trip where I realised my travels has just leaped up to a whole new level. I've never seen mountains like this, ever ever ever. This kind of stuff makes you go cross-eyed with glee. Thank you world!
Passu Bridge
And to top it all off, if the Hussaini Suspension Bridge wasn't enough for your adrenaline addiction, there's another bridge which will knock your socks off in Passu too. It's just as nuts, the slats between the planks are even wider, and if it's as windy as my time on the Hussaini was…good luck soldier. Good luck.
Day 8: Pakistan China Border of Khunjerab Pass
Ever visited a border at an elevation of 4693m / 15397ft? This is the highest border crossing in the world, so now's your chance to get sky high! And this is also where the highest ATM in the world exists haha!
Set amongst rolling clouds and towering mountains, standing strong under the mighty metres of deep icy sparkling snow thrown down on top of them by the God(s) above, this border looks like something right out of a Narnia.
With a crazy elevation like this, you won't feel quite right in the head either (the joys of altitude sickness) so what is a trippy experience already, will take your mind to new levels of 'whoa'.
As Mr.Khan's bus takes us higher and higher through the twists and turns of this sci-fi ice world, the beauty just keeps coming and coming. We come to a halt, eagerly jump out, and immediately, that altitude hits us right on the head. I keep focusing forward towards China – with its instantly recognisable grey, concrete-style architecture – and finally make it as far as we could go.
I used to live in China all the way on the other side in Shanghai, so it's a special moment for me to finally be next to the province of Xinjiang. I manage to stumble back to the bus, and because I'm feeling so off my face on altitude, I end up eating all 4 of the chocolate bars I've bought for the next 3 days of hiking. Altitude munchies: it's a real problem people!
Day 9: The jeep ride of your life to Fairy Meadows
Just when I thought the Hussani Suspension Bridge was tempting death enough (between you and me one of my legs fell through on the way back – thanks for saving me Rehman), I somehow found myself on the deadliest jeep ride of my life too.
To get to Fairy Meadows in the Himalayas, you can walk for 2 or more days, or be on the edge of a cliff on a very wobbly jeep for 90 minutes: jeep it is then.
Aurelie, the French chick, whispers to me that she's been dreading this moment for the whole trip. I tend not to look at itineraries in advance to keep things a surprise. Ignorance may just be bliss…
How close you are to the edge of a very long death drop just isn't worth thinking about. Better to just take in the amazing views and tell yourself that if this if your time to go, at least you're going to the next level in one of the most beautiful places on earth.
Once the jeeps finally come to a stop, you must embark on a 2-3 hour hike up to Fairy Meadows. It's blimin' tough, especially when you've got all of your gear on your back. Make sure to look back when you're going up to fully take in the views, and make the most of the midway point for a cup of chai and a cheeky biscuit snack.
TREKKING GEAR
You need to make sure that you have the best trekking poles, trekking shoes, hiking backpack etc for Pakistan. Be prepared before you arrive in Pakistan.
Check out my hiking packing list
Fairy Meadows
Most tourists only come here for a day when they make it to the top, but to really get the most out of this stunning secluded spot, you need to stay for a couple of days; especially if you're aiming to get to the Nanga Parbat base camp.
Settle in, sit by the campfire and enjoy these wooden forest huts that you will find yourself in once you reach Fairy Meadows. They are absolutely gorgeous and super cosy with their own fires in the middle: perfect for snuggling yourself in under your very own mini mountain of blankets. Sleep tight!
Nanga Parbat
Standing at 8,126 metres (26,660 ft) above sea level, Nanga Parbat is the 9th tallest mountain in the world. In Sanskrit, its name translates to 'Naked Mountain', but being such a difficult climb (seriously difficult), it is also known as 'Killer Mountain' for the number of lives it has taken. Serious stuff.
Day 10: Snow hike to Nanga Parbat
By far the most challenging but totally phenomenal day of this trip ever, stepping into this world simply transports you into an experience that will have you smiling for days. We were blessed with snow as deep as our knees. If you have the right shoes, all tucked up with a pair of gaiters on, you're going to be able to take on this kickass trail like a boss.
I have honestly never seen anything like this in my life. With every step Fairy Meadows tries to grab at my ankles and thrust me face down into the crisp fluffy white ice. At times it succeeds – but I take it with full gusto. If this is the price you have to pay for pure hiking excellence; give Fairy Meadows whatever it wants.
With Chris leading and making the way for all of us to reach our first point, we slowly trudge and stumble our way through the terrain to emerge at a wooden hut. There's a couple of locals in the lone wooden hut here too, who make the best chai and coffee. We order lunch for a couple of hours time for when we return from Nanga Parbat. The thought of that wholesome rice, dal (lentils) and chicken noodle soup in my belly revs my engines up. Let's go!
With so much snow to clamber through, we manage to make it up to the most possible and closest viewpoint. No base camp for us today; when you come – I hope you can make it further than we can.
However, with a view like this; who can complain?!
I feel like I've just hit the Pakistan hiking jackpot!
Day 11: Fairy Meadows – Chill Out Time
Day 11 is a full day of being as one with the mountains. It's been a couple of crazy days. Being still, reflective and just soaking up the energy in this blissful vast oasis is the best way you can spend your day of 'nothingness'.
Read a book, take a walk, have a cup of tea with the locals and breathe in that air.
What comes up must go down, and alas, that means two more full days of Mr.Khan getting you back to Lahore on the Karakoram Highway. This is going to be your last chance to have a love affair with the Pakistani Mountains. Say your thanks and tear yourself away.
Day 14: Lahore and the Pakistan – India Wagah Border
Day 12 and 13 have been all about getting yourself back to Lahore but now that you're safely back in this city, it's time to make the most of it! You'll get the chance to explore Lahore Fort, Badshahi Mosque and in the afternoon you'll be going to the Wagah Border between India and Pakistan!
Read: The Girl's Guide To The Best Places to Visit in Lahore
Everyday there is a military ceremony between India and Pakistan where they lower their flags and do a lot of high kicks in front of each other. It really is a spectacle with the atmosphere of a high-energy football match. This practice has been happening since 1959 and I was lucky enough to be on the India side a couple of years ago. It was amazing to be able to switch things up and be on the Pakistan side too. The experience was just as electric! Pakistan Pakistan Pakistan!
Is trekking in Pakistan safe?
In North Pakistan in Hunza, it is great to come trekking here. Going on a tour will ensure that you are guided safely and carefully. The locals know the mountains and how to deal with changes in the weather like absolute pros. Trust and follow them and you will be in good hands.
The best that you can do on your part is ensure that you are prepared. Train beforehand so that you are physically fit. Have an open and willing mind when you come and most importantly of all, you must get travel insurance. The tour will not accept you without it.
Get your travel insurance quote here
Are you ready to go trekking in Pakistan?
I hope you're feeling seriously inspired by this Pakistan travel guide to trekking in Hunza! This trip was made possible by Epic Backpacker Tours who are total legends when it comes to Pakistan tours. Not only did they show me the best spots but the people on this tour are absolute gems. I cannot thank everyone enough (tour crew + fellow explorers!) for taking care of me.
Want to explore Pakistan with Epic Backpacker Tours too?
*This complimentary trip was made possible by Epic Backpacker Tours in Pakistan in return for this post. My views and opinions remain completely my own = honest and straight to the point.
Comment Below
Is this what you thought North Pakistan would be like? Do you have any questions about Pakistan? Ask me in the comments below! I look forward to hearing your thoughts.
Related Reading
The Girl's Guide To The Best Places to Visit in Lahore
10 Best Places to Visit in Pakistan
Top Security Devices for Solo Female Travellers
Pin Me